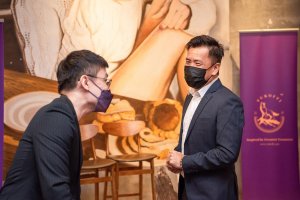 A spectacular event happened and it was none other than Vukoffi's Pre Launch that took place at Union Roastery in Citta Mall on the 7th of April 2022 in conjunction with World Health Day!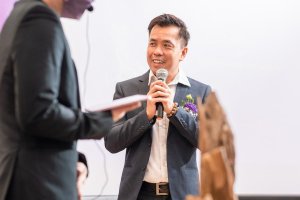 The first batch of special guests were invited to have a sneak peek and test out Vukoffi's Oud Oil infused premium coffee that has yet to be launched to the public. Our Founder, Mr. David Liew from Dadavance Agarwood Solutions Sdn Bhd and NYCX Sdn Bhd gave a speech during the event to give an eventful insight as to what Agarwood was and the overall health benefits of Oud Oil such as boosting metabolism, improves calmness, eliminates heatiness, regulates digestive system and more!
During the event, Ms Ngu Lee Chien, the General Manager from Union Roastery touched on the anatomy of coffee beans and briefed on Brazil Arabica Coffee Bean has the most balanced taste followed with great aroma after blended with Oud Oil. After the explanation and demonstration we were delighted to let everyone have a taste of Malaysia's first infused oud oil premium coffee. 
On top of that, Mr Sae Junn, Founder of Be Good Creative gave a short speech on the overall brand story of how Vukoffi came to light, giving a little insight and backstory behind the meaning of our brand and our vision. The brand name indicates that we are not afraid of challenges, like wolves we observe and our actions are fast. 
Furthermore, Mr Tham Lih Chung, Founder of Incite Foodtech did a sharing regarding his interest and getting into the coffee industry. Mr Tham also elaborated on our collaboration with Union Roastery, and the reason why the current formulation we have chosen is the highest grade and tier in order to suit Malaysian taste. 
Last but not least, Dr Janson Ang, Founder of The Giving Bank addressed everyone about our collaboration. The collaboration was to acknowledge and thank every single frontliners that has sacrificed their time and lives during this pandemic to keep things under control, therefore we respect their dedication and hard work.
We are thankful to Ms Ngu Lee Chien, Mr Sae Junn, Mr Tham, Dr Janson and more for attending our pre-launch of Vukoffi and making it a memorable and insightful one!
As Vukoffi's main ingredients consist of Top Brazil Santos Beans and Top Oud Oil in Malaysia, we believe that Vukoffi will be the first to serve premium coffee with multiple health benefits all in one cup! On top of that, Vukoffi believes that our brand is suitable for corporate gifting or as a premium souvenir gift that's from Malaysia to other countries. 
We believe that Vukoffi will be the first premium Oud Coffee brand with health benefits to give added value for coffee lovers. Apart from that, corporate gifting for VIP Clients and souvenir gifts to loved ones is all about making an impact. Therefore, Vukoffi will be one of the go-to for impressing the supreme level of the best of modern luxury and lifestyle.