On April 7th 2023, history was made at the Technogym Bangsar in Kuala Lumpur as Soh Wai Ching, a young and determined athlete, set out to break the world record for tower running. This intense and challenging sport involves running up the stairs of some of the tallest buildings in the world, and Soh Wai Ching was aiming to become the fastest tower runner in history.
Despite the immense physical and mental challenges of the sport, Soh Wai Ching persevered, setting a blistering pace and racing to the top of the tower with incredible speed and agility. And when he reached the finish line, he knew that he had accomplished something truly remarkable.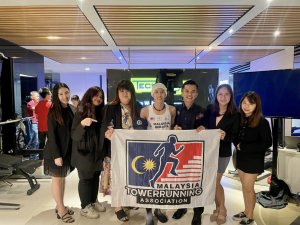 It was confirmed that Soh Wai Ching had broken the world record for tower running, our No.1 World TowerRunner, becoming the fastest tower runner in history and cementing his place as a true champion of the sport. His incredible achievement has inspired us all to believe in our own potential and to never give up on our dreams, no matter how daunting they may seem.
We are all inspired by your accomplishment and can't wait to see what incredible things you will achieve next. Well done!